Hipot testers (continuity test/dielectric withstand test) are used as a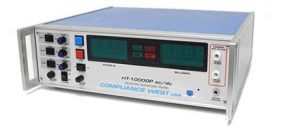 production line test which is recognized by safety agencies worldwide as a valid criterion of safe assembly of end-use equipment. The test ensures that the primary circuit power and ground conductors were properly wired and connected for safe operation. It also applies a high-voltage potential between power and ground conductors to make sure that no unintentional leakage or arcing paths exist between power and ground. The test consists of a ground continuity check, a leakage current check and a high voltage check. It is non-destructive to the equipment under test, and can be accomplished in a short time.
Routine testing and calibration are recommended for hipot testers to maintain the specifications of the hipot tester.
Calright Instruments offers calibration services for your hipot testers.
Supported Brands
We support most major brands such Hiok, Kikusui and Compliance West
Fill out our calibration request form here to check if we support calibration on your hipot tester.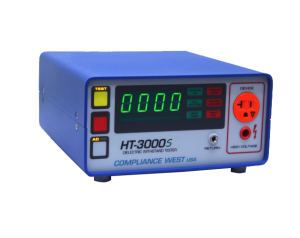 Hipot Testers Available for Purchase
Not only do we offer calibration for hipot testers, we have a wide variety of hipot testers available for purchase.
Need to replace or purchase additional hipot testers?
Choose from our large inventory of hipot testers here.
Calright Instruments Calibration Services
Our calibration laboratory is Accredited to ISO/IEC 17025:2017* by A2LA and all calibrations performed are Traceable to the International System of Units (SI) via National Metrology Institutes (NMI) that are signatories to the CIPM Mutual Recognition Arrangement such as the National Institute of Standards and Technology (NIST) and comply with ANSI/ NCSL Z540-1-1994 and ANSI/ NCSL Z540.3-2006.
*See our scope for available ISO 17025 Accredited calibration services.
Complete our calibration form here to request available calibration services and pricing for your test equipment. You may also send your list of equipment to [email protected] or give us a call at 866.363.6634.
For Test Equipment Repair Services please visit our test equipment repair page.