Torque is a "turning" or "twisting" force and differs from tension, which is created by a straight pull. However, we use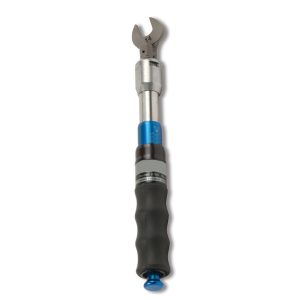 torque to create a tension.
A bolt tensioned properly works at its optimum efficiency and will resist coming undone. However, if the tension is too low, the nut could vibrate or work loose. If the tension is too high (overstretched), the bolt could break. Every bolt has a correct optimum torque/tension figure for each fastening application. It is important to have these figures available so that the end product will be safe, efficient and economical.
The reliability of machine parts subjected to fluctuating loads and stress depends on the fatigue strength of the materials. A threaded fastener, however, relies upon an elastic interaction between the mating components. Its objective is to clamp parts together with a tension greater than any external force trying to separate them. The bolt then remains under almost constant stress and is immune to fatigue. If the initial bolt tension is too low, the fluctuating load in the shank in much greater and it will quickly fail. Reliability, therefore, depends on correct initial tension and is ensured by specifying and controlling the tightening torque.
Calright Instruments offers calibration services for your Torque Wrenches/ Drivers/ Calibrators.
Routine testing and calibration are recommended for Torque Wrenches/ Drivers/ Calibrators to ensure accurate measurements are being recorded.
Supported Brands
We support most major brands such as Mountz and Shimpo
Fill out our calibration request form here to check if we support calibration on your Torque Wrenches/ Drivers/ Calibrators.
Torque Wrenches/ Drivers/ Calibrators Available for Purchase
Not only do we offer calibration for Torque Wrenches/ Drivers/ Calibrators we have a wide variety of Torque Wrenches/ Drivers/ Calibrators available for purchase.
Need to replace or purchase additional Torque Wrenches/ Drivers/ Calibrators?
Choose from our large inventory of Torque Wrenches/ Drivers/ Calibrators here.
Calright Instruments Calibration Services
Our calibration laboratory is Accredited to ISO/IEC 17025:2017* by A2LA and all calibrations performed are Traceable to the International System of Units (SI) via National Metrology Institutes (NMI) that are signatories to the CIPM Mutual Recognition Arrangement such as the National Institute of Standards and Technology (NIST) and comply with ANSI/ NCSL Z540-1-1994 and ANSI/ NCSL Z540.3-2006.
*See our scope for available ISO 17025 Accredited calibration services.
Complete our calibration form here to request available calibration services and pricing for your test equipment. You may also send your list of equipment to [email protected] or give us a call at 866.363.6634.
For Test Equipment Repair Services please visit our test equipment repair page.