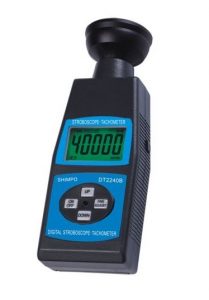 The ST-1000 velocity analyzing and measuring device is ideal for rotational machine inspection. The stroboscope is capable of flashing the light in a synchronous frequency to the operating machinery, creating the illusion of viewing stopped or slowed images. Utilizing this phenomenon of slowing or stopping the motion with the adjusted rate of the ST-1000's flashing LED lights, machine parts and processes may be inspected for defects. Plus, the rotational speed of the machinery and systems may be recorded for further performance analysis.
The ST-1000 is adjustable in either coarse or fine step flash-rate tuning. The backlit display shows the current flash rate as well as indicates when batteries need replacement. Operation is simplified with 10 user-stored flash rates, reducing future set up time by enabling quick system or equipment analysis. The backlit feature can be switched off to save battery life if desired. This ergonomic, hand held device is made of sturdy ABS plastic and comes with batteries, operation manual and protective carrying case.
These features make the ST-1000 the ideal choice for inspecting rotors, meshing gears, vibration diagnostic equipment, textile equipment, power tools, speaker acoustical analysis, printing production lines and many more.