Calright Instruments is pleased to announce that our calibration laboratory is now accredited to ISO/ IEC 17025:2005 through A2LA. Our assessor reported that of the 500+ audits he performed over the past 12 years we were only the second company to pass a new lab assessment with zero deficiencies. We are proud of our professional and technical staff as this shows the dedication and commitment to quality we strive to provide our customers.
As part of our commitment to continuous improvement we will immediately begin expanding our laboratory capabilities to provide our customers with more options for the calibration of their new purchases and current assets.
For more information on our available services and capabilities please call Toll Free 866-363-6634 or send us an email at [email protected]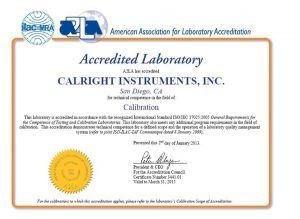 Click here for a copy of our Certificate and Scope of Accreditation.