Model BA6011 supports voltage measurements of battery packs up to 300 V whereas the BA6010 features a 6 V measurement range ideal for battery cell testing. Both models are equipped with an intuitive front panel featuring navigation keys, numerical and function keypads, a USB host port, a 4-terminal input connection and a large 4.3 inch color LCD that displays primary and auxiliary measurement parameters.
Additionally, a number of built-in functions give users added flexibility. For example, a comparator function evaluates measurements against a user specified upper and lower limit for pass/fail (Go/No Go) style testing. A trace function samples and plots the battery primary and secondary measurement readings over a specified time. Also included with both models are RS232 and USB (USBTMC and virtual COM) interfaces for data logging and remote control, a handler interface and an external BNC trigger input to facilitate production automation.
The BA6010 Series is suitable for characterizing battery chemistries including lead acid, lithium and alkaline type batteries used in consumer products, electric vehicles, power backup, security, and alarm systems. Furthermore, these models are reliable, cost-effective solutions with very limited competition in the market.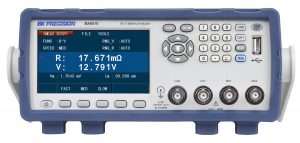 B&K Precision BA6010 Battery Analyzer, 6V/ 60V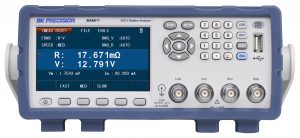 B&K Precision BA6011 Battery Analyzer, 30V/ 300V