Anemometers (also known as Airflow Meters and Air Velocity Meters) are used to measure wind speed, air flow and air velocity.  Units of measurement include m/s, fpm, km/h, mph or knots.  Both rotating vane and hot wire anemometers are available to suit various air flow applications.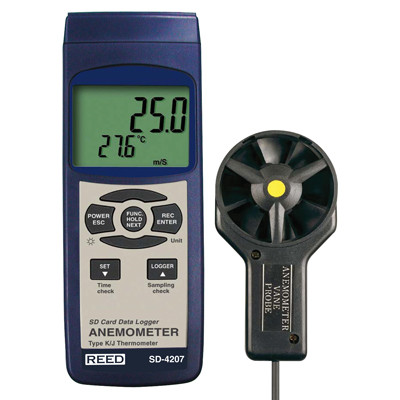 Common airflow measuring applications include:
Ventilation Testing • Air Balancing • Measuring (unevenly distributed or fluctuating flows, air and gas flow) • Certification (HVAC systems) • Monitoring (ventilation, warning of cooling degradation) • QA checks (verifying accuracy of installed gauges) • Experiment (observe effect of real time changes and perform online adjustments) • HVAC commissioning and trouble shooting • Ductwork • Analysis (Heating and cooling coil analysis) • Energy audits • Determine leaks around doors and windowspace
Routine testing and calibration are recommended for Anemometers to ensure accurate measurements are being recorded.
Calright Instruments offers calibration service on rotating vane anemometers. Our technicians utilize the latest wind tunnel technology to test and ensure your anemometer meets specification.
Supported Brands
We support most major brands such as Extech, Reed, Kanomax and more.
Fill out our calibration request form here to check if we support calibration of your anemometer.
Anemometers Available for Purchase
We carry a variety of digital anemometers for all of your airflow measuring applications. Choose from low cost portable handheld anemometers to industry specific models that measure air velocity, temperature, relative humidity, pressure and CFM.
Need to replace or purchase additional anemometers?
Choose from our large inventory of anemometers here.
Calright Instruments Calibration Services
Our calibration laboratory is Accredited to ISO/IEC 17025:2017* by A2LA and all calibrations performed are Traceable to the International System of Units (SI) via National Metrology Institutes (NMI) that are signatories to the CIPM Mutual Recognition Arrangement such as the National Institute of Standards and Technology (NIST) and comply with ANSI/ NCSL Z540-1-1994 and ANSI/ NCSL Z540.3-2006.
*See our scope for available ISO 17025 Accredited calibration services.
Complete our calibration form here to request available calibration services and pricing for your test equipment. You may also send your list of equipment to [email protected] or give us a call at 866.363.6634.
For Test Equipment Repair Services please visit our test equipment repair page.