Compliant with IEC 61243-3 Edition 2, the C.A 771 and C.A 773 VAT can be used to work on any 1000V CAT IV installation.
To meet the requirements of the standards in certain countries, these testers are available in two versions: equipped with IP2X test probes or without. The C.A 771 and C.A 773 has a redundant safety system in the event of power supply faults; the ELV LED flashes when the voltage exceeds 50VAC / 120VDC.
Safety is ensured when testing GFCI and Residual Current Device (RCD) tripping by means of a double control system. Both hands are necessary to press the two buttons simultaneously.
The integrated autotest checks the electrical circuits, power supply, displays and the condition of the measurement leads. Phase rotation measurement is simple and quick with the 2-wire microprocessor system. Audible and visual continuity testing is provided in compliance with Appendix B of the IEC 61243-3 standard. The tester can also detect stray voltages and offers unipolar phase identification.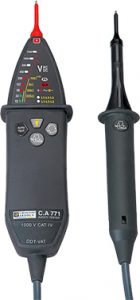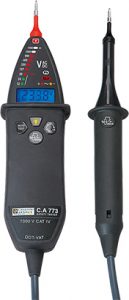 AEMC CA771 (2121.14) Voltage Tester
AEMC CA773 (2121.15) Voltage Tester