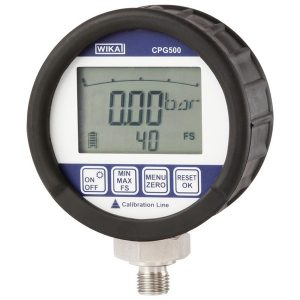 The amount of force on a certain area is known as pressure. Pressure is measured in several different units depending upon the application and the country in which the measurement is taken. Some of the most common worldwide units are psi, mmHG, inHG, kPa, inWC, kfg/cm2 and bar.
Digital Pressure Gauges use a silicon or piezoelectric sensor to convert the applied pressure to a micro processed signal displayed on a digital readout.
Some Analog Pressure Gauges use the Bourdon tube principle. An arched pressure tube is mechanically geared to dial pointer. As the pressure increases, the Bourdon tube flexes moving the pointer linearly on the dial.
Calright Instruments offers calibration services for your digital and analog pressure gauges.
Routine testing and calibration are recommended for pressure gauges to ensure accurate measurements are being produced.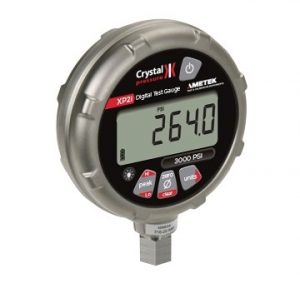 Supported Brands
We support most major brands such Ametek/Crystal, Mensor and Wika
Fill out our calibration request form here to check if we support calibration on your pressure gauge.
Pressure Gauges Available for Purchase
Not only do we offer calibration for pressure gauges, we have a wide variety of pressure gauges available for purchase. Need to replace or purchase additional pressure gauges? Choose from our large inventory of pressure gauges here.
Calright Instruments Calibration Services
Our calibration laboratory is Accredited to ISO/IEC 17025:2017* by A2LA and all calibrations performed are Traceable to the International System of Units (SI) via National Metrology Institutes (NMI) that are signatories to the CIPM Mutual Recognition Arrangement such as the National Institute of Standards and Technology (NIST) and comply with ANSI/ NCSL Z540-1-1994 and ANSI/ NCSL Z540.3-2006.
*See our scope for available ISO 17025 Accredited calibration services.
Complete our calibration form here to request available calibration services and pricing for your test equipment. You may also send your list of equipment to [email protected] or give us a call at 866.363.6634.
For Test Equipment Repair Services please visit our test equipment repair page.