Function and arbitrary waveform generators are among the most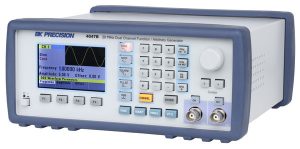 important and versatile pieces of electronic test equipment. In electronic design and troubleshooting, the circuit under scrutiny often requires a controllable signal to simulate its normal operation. The testing of physical systems and transducers often needs stable and reliable signals. The signal levels needed range from microvolts to tens of volts or more.
Modern DDS (direct digital synthesis) function generators are able to provide a wide variety of signals. Today's basic units are capable of sine, square, and triangle outputs from less than 1 Hz to at least 1 MHz, with variable amplitude and adjustable DC offset. Many generators include extra features, such as higher frequency capability, variable symmetry, frequency sweep, AM and FM operation, and gated burst mode. More advanced models offer a variety of additional waveforms and Arbitrary Waveform Generators can supply user-defined periodic waveforms.
Function generators are used where stable and repeatable stimulus signals are needed. Routine testing and calibration are recommended for function generators to ensure accurate measurements are being produced.
Calright Instruments offers calibration services for your benchtop or handheld function generators.
Supported Brands
We support most major brands such Agilent/HP, Rohde & Schwarz, Tektronix, and B&K Precision
Fill out our calibration request form here to check if we support calibration on your function generator.
Function Generators Available for Purchase
Not only do we offer calibration for function generators, we have a wide variety of function generators available for purchase.
Need to replace or purchase additional function generators?  Choose from our large inventory of function generators here.
All pre-owned function generators are calibrated before they are shipped out.
Calright Instruments Calibration Services
Our calibration laboratory is Accredited to ISO/IEC 17025:2017* by A2LA and all calibrations performed are Traceable to the International System of Units (SI) via National Metrology Institutes (NMI) that are signatories to the CIPM Mutual Recognition Arrangement such as the National Institute of Standards and Technology (NIST) and comply with ANSI/ NCSL Z540-1-1994 and ANSI/ NCSL Z540.3-2006.
*See our scope for available ISO 17025 Accredited calibration services.
Complete our calibration form here to request available calibration services and pricing for your test equipment. You may also send your list of equipment to [email protected] or give us a call at 866.363.6634.
For Test Equipment Repair Services please visit our test equipment repair page.